Airmix
This program shows you the volume level of your alsa card in a similar way as a TV would.
If built with lirc support, you can also use your remote control to change the volume level or mute any channel.
I wrote it to use it in my home theater pc (HTPC) based on Linux, freevo and mplayer, but since it could be useful to others, I decided to publish it.
Airmix
Este programa muestra el nivel del volumen de la tarjeta de sonido de la misma manera que lo haría un televisor.
Si se compila con soporte de lirc también permite cambiar el volumen con un control remoto.
Lo escribí para usarlo en mi home theater pc (HTPC) basado en Linux, freevo y mplayer, pero ya que puede ser útil para otros, decidí publicarlo.
Links:
Screenshots
Running on my computer: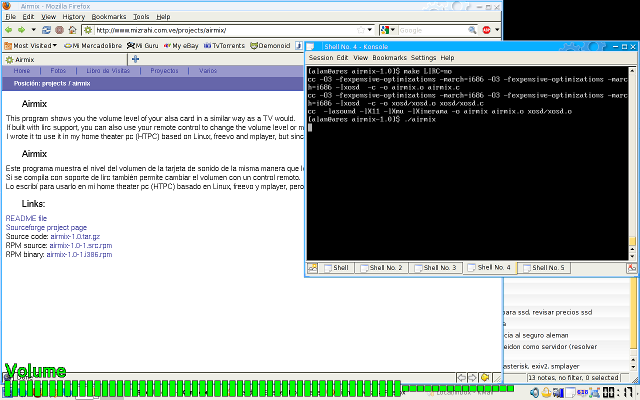 Running on my HTPC: